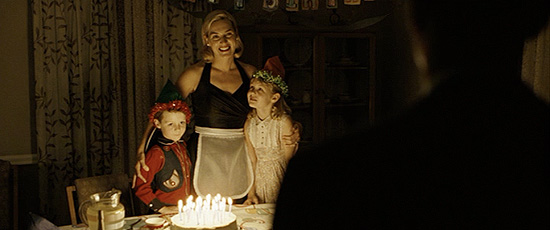 Inspired by Kristopher Tapley's "Top 10 Shots of 2008," an annual list composed by the In Contention blogger to give due praise to the ten extracted stills he found to be the best from films this year, (see Part One here and Part Two here), I have decided to post a bit about my favorite cinematographs (if you will honor the word) this year. While Kris' choices in my estimation hang on a bit more to showmanship than ability in my estimation, they nevertheless do point to some of the most talked-about images of the film year, images which I cannot deny belong too on my list as much as any of a similar sort. Specifically, these images of overlap, which I perhaps will call some of my most noteworthy cinematographs of 2008, are numbers 10, 8, 6, and 1 on his list: the stills captured in Milk, Revolutionary Road, The Wrestler, and Låt den Rätte Komma In (Let the Right One In) respectively. These images (and the others that I shall mention) find themselves in high estimation by me - even if perhaps, as in the cases of Milk, The Wrestler, and Revolutionary Road, I've found the context from which they were sprung overall to be unremarkable - because they were such images that, during my first-time seeing them upon the screen,
made me sit back, exhale an "O," and think quietly to myself, "Yes, yes, that's very beautiful/quite right." The Revolutionary Road image itself (above) was compelling enough alone in the trailer, to make me (with even utter disregard for the entire rest of what was being previewed) extremely eagerly await the theatrical release of the film; and the image from Låt den Rätte Komma In (Let the Right One In; below) was so spectacular to the conclusion of the film that it seemed a paradigm of elegance in its depth and tranquil, steady capability. Why is that (elegance and capability), you ask, such an important consideration when composing a list like this one or - better yet - when judging the merit of the cinematography of a film? I answer, it is because the images in a film are intrinsically fluid, a shifting, gliding kaleidoscope of luminal change that nevertheless must cohere itself together and remain competent, if not commanding, in its audience-entrancing and -telling of the story, that elegance and capability, coherence and impact, are high-marked virtues of the great cinematograph - ones which I believe quite do outstand the other (common) shots from my and Mr. Tapley's lists from the field of their surroundings (and none quite as plainly as the image from Milk,
which merits a place here exactly for its transparency despite the fact that others may prefer to call it on the side of heavy-handedness). What of your considerations for cinematography then, you continue; which of them, or why do they, merit a spot on your list? Well, to begin with, I would add to my list at least one further image from Låt den Rätte Komma In (Let the Right One In), at least one of the three: the split image of Håkan, Eli's care-taker, on left, waiting with the certain knowledge of his discovery and later arrest for murder and attempted murder, and the boys, one of whom was Håkan's intended victim, on right, untying their bound comrade; the half-frenzied image of Virginia, being driven from Gösta's apartment by siege of his ~12 cats, while he himself and another watch her from outside, on his balcony; and the subsequent image of Virginia, now hospitalized for her condition, bursting into a ball of fire once daylight has streamed in from the open window she had requested - all incredibly compelling stills. I would also include on my list stills from other films that made Mr. Tapley's list: an image from Slumdog Millionaire, one from the opening scenes, during which the heavy dyes of India ink out in hazy puffs and swashes as the fast-paced cuts paint the vibr
ant but troubled landscape; an image from The Curious Case of Benjamin Button (above), from Daisy's ballet career, when she extends for him in dance in the backlight of an old stage; and an image from The Dark Knight, when The Joker, hunched, waits with anticipatory glee against the depthless black backdrop of the city for Batman to charge at him on his motorcycle. And, finally, because I like to make lists in elevens and threes, I would add three of my own selections to this list of most noteworthy cinematographs from films of this year: from Wall•E a still (above) from the opening sequences, in which the barren expanse of the decay of man and machine is laid waste over Wall•E's daily world, the shot which I so analogously called the "elephant graveyard" of this film; from Doubt the couplet of bookending stills that in their two frames outline the entire film (a couplet about which I spoke highly in my review of the film, here); and - slightly for fun - from Kung Fu Panda the (above) still of sage Oogway, passing on and washing away into a flurry of lavender petals that crystallize as stars in the blue night sky, an image that like so much of the imagery of that film smartly lies at the intersection of the old and the new Japan.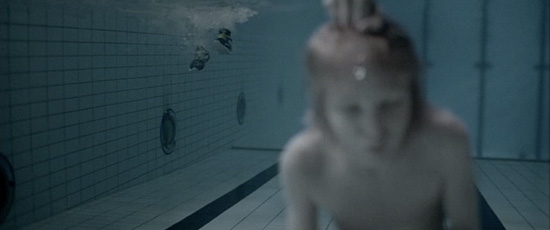 Because each of these 11 images, from Låt den Rätte Komma In (Let the Right One In) to Kung Fu Panda, captures in a single frame not only the essence of its parent film but also the poignancy of it, I believe, these 11 represent the most noteworthy filmic images of the year, cinematographs that for those readers who would prefer a tidy ordered list I've repeated, ranked, here, after the jump:

Låt den Rätte Komma In (Let the Right One In; shown)
Revolutionary Road

Slumdog Millionaire
Låt den Rätte Komma In (Let the Right One In; not shown)
The Dark Knight
The Wrestler
Doubt
Milk

Wall•E
The Curious Case of Benjamin Button
Kung Fu Panda